TYREPOWER CELEBRATES FOUR YEARS AT THE TOP WITH CANSTAR BLUE
For the fourth consecutive year, Tyrepower has been awarded the Canstar Blue Most Satisfied Customers title in the Tyre Retailers category.
In an annual review of Australian motorists conducted by Canstar Blue, Tyrepower received an extremely impressive five stars from customers across all of Canstar Blue's research categories.
With choosing new tyres often an overwhelming and challenging task for Australian motorists, Canstar Blue's review aims to identify the most favourable tyre retailer in the market, with Australian motorists rating Tyrepower highest overall for the fourth year in a row.
Canstar Blue recognises the efforts of Tyrepower to do more than just sell its customers new tyres, with Tyrepower's extensive Dealer Network able to provide assistance and advice to its customers about the best tyre options for their vehicle and specific needs.
With over 260 stores, Tyrepower can provide not just new wheels and tyres, but also car servicing, repairs and advice.
"The Australian tyre market is extremely competitive and being rated as the top tyre retailer by Australian motorists is a fantastic endorsement of our company and the service our Dealer Network provides," David Wilson, Tyrepower CEO said.
"At Tyrepower, and in each of our Dealerships across the country, we pride ourselves on quality customer service and providing our customers with the very best products at competitive prices.
"We are committed to providing friendly staff, outstanding product and vehicle knowledge and great value in each and every one of our stores. We ensure this is consistent in each of our Tyrepower stores, no matter where our customers are located.
"We are extremely proud to have won the Canstar Blue Most Satisfied Customer award for the fourth consecutive year. It is an absolute credit to our dedicated Tyrepower Dealers and their hard work and commitment."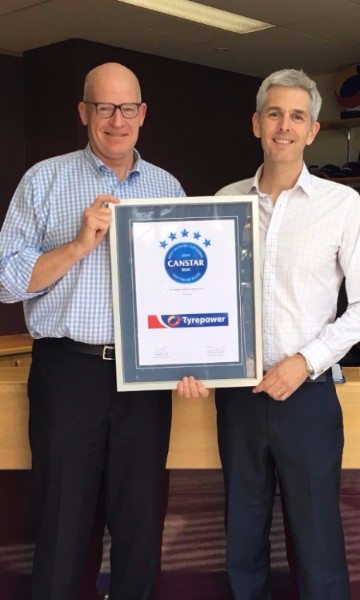 Tyrepower CEO, David Wilson (L), accepts the Canstar Blue award for Most Satisfied Customers in the Tyre Retailers category.
ABOUT TYREPOWER
Established in 1977 and operating in all states and territories around Australia, Tyrepower has over 250 independent stores within its National network.
Tyrepower is Australia's largest independent tyre retail chain, and recognised by many of the larger tyre manufacturers as a primary distribution channel in Australia.
Tyrepower enjoys preferential buying arrangements with key industry players such as Toyo, Kumho, Goodyear, Dunlop, Kelly, Continental, Falken, Michelin, Pirelli, Vitora, Maxxis, Cooper, ROH Wheels, Speedy Wheels, Mullins Wheels, and Century Batteries.
These relationships allow Tyrepower stores to offer Australian consumers, flexibility, savings and value across leading brands.